Experience The Difference With Vinyl Fences
Are you looking for a durable and safe fencing option for your property? Vinyl fencing is a great option because of its exceptional strength, its non-toxicity, and it is made of high-quality PVC (polyvinyl chloride) that won't rot, split, or chip. Another great feature of vinyl fences are they are an all-around smooth surface that can't harm any children or pets who will be enjoying the outdoors on your property.
You can choose from a multitude of colors, styles, and textures that match your taste and your budget. Once you've decided which exact fence you'd like, we can install it. Our vinyl fence installation services are done by our fencing contractor so you can have peace of mind knowing your fence will be installed promptly and professionally by a fence company with integrity.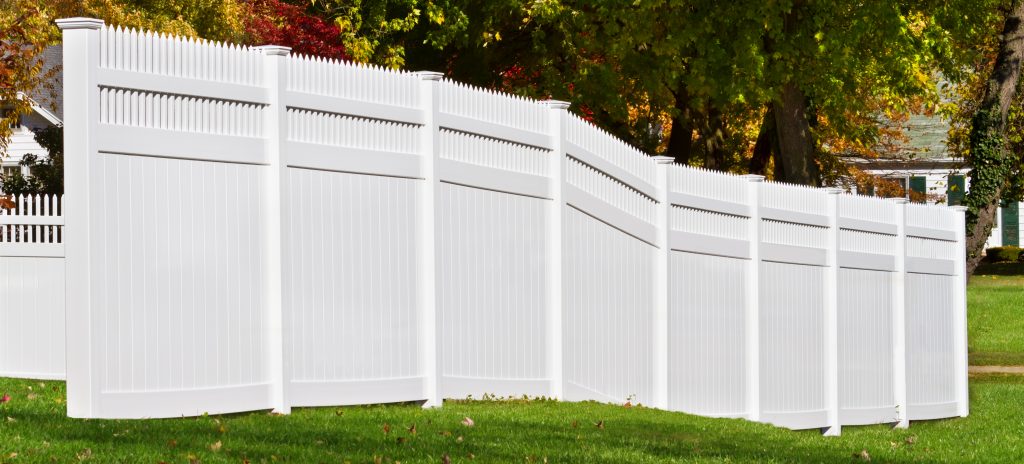 Benefits of Vinyl Fencing
Vinyl fencing is not only aesthetically pleasing, but also offers a wide variety of benefits to homeowners. Below are some advantages of installing a vinyl fence in your yard:
Vinyl fences are easy to install and won't take up a lot of your time, whether you or a professional is erecting the fence in your yard.
Vinyl fencing has a longer lifespan than many other fencing options.
Vinyl fences do not oxidize and rust like metal fences, do not peel and chip or attract termites like wood fences, and do not expand or warp due to weather fluctuations. Maintenance is minimal!
You can choose between a variety of colors, textures, heights, and more when determining what type of vinyl fence you'd like to install.
Vinyl fences are safer—they do not set fire easily, cannot produce splinters, and will not wear down and fall.
Lastly, vinyl fences are durable and can withstand many weather conditions that other fence types cannot.
Tips for Caring for Your Vinyl Fencing
Vinyl fences are beautiful, durable types of fences that make for great additions to any home. Homeowners love them because of their curb appeal and longevity. However, they still need constant care to stay protected. You need to keep them clean to prevent them from becoming stained and getting damaged. Here are some things you can do to protect the integrity of your fencing:
Wash Them Often
Cut Overhanging Tree Branches
Maintain a Regular Inspection Schedule
Fix Any Damage Immediately
Our Fence Company Builds Quality
Vinyl Fences
If you live in Westchester, White Plains, Yonkers, Armonk or in the surrounding areas and you want to have a vinyl fence installed on your residential property, we're the team to call. We even have commercial fencing services if you'd like to have a vinyl fence installed around your business, too.
No other business or home fence installation company is as committed to excellence as we are here at Globe Fence & Railings Inc. So when you want quality services at the best prices. Turn to us! We're ready to get started on your vinyl fence installation project, so all you have to do is give us a call and we'll get to work.
---