If you are a parent, your children's safety and well-being is probably on your mind all the time. It's said that having children is like having a piece of your heart walk outside your body. Being worried about your children all the time can become stressful, especially when you worry about where they are and want to make sure they are not in danger. That is why fences are so important on properties to allow your children to roam your property safely.
Fences have many uses and homeowners may want them for many reasons. At Globe Fence & Railings Inc., we offer a variety of fences in the Greenwich and Stamford, CT and Westchester, NY areas to match your budget and style. Having the right fence for your property will allow your children the opportunity to have the space they need.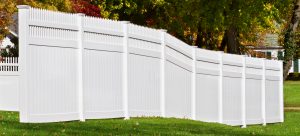 If you are in the market for a new fence, we can help you determine what kind of fence will keep your children protected. The best fences should have:
Safe Materials
When it comes to the best fencing when you have kids, vinyl and aluminum are some of the best choices. Both materials are long-term and safe. Vinyl and aluminum choices stay smooth and do not create splinters as wooden fences may.
Flat Rails
Ornamental fences make a property look very nice. However, when there are kids involved, a flat top rail is much safer than a spear. Flat rails are not only safe, they add a unique style to your property.
Latches
Having a latch on your gate is extremely important when children are around. If you don't close the latch, children may find themselves in a dangerous situation. If the latch is easy to see but hard to open, this will help keep your child safe.
Hard to Climb
Sometimes, fences may be attractive to kids, especially those who like to climb on stuff. If your child, or other children, can climb on your fence, this may not be the safest option. Vinyl and aluminum fences are great choices as they don't have foot holes that can be used to climb, and they have flat surfaces.
Strong and Tall
One reason you may get a fence is to keep you and others safe. Whether you don't want intruders or animals to enter your property, it's important to make sure the fence is tall enough to keep things from jumping over it and strong enough to remain intact. Choosing a fence that is 6 ft. or taller is a good idea.
Contact Us
If you are looking for the best type of fence to keep your children safe from busy roads, pools, or other circumstances, we can help. Contact the fence company you can trust. Contact Globe Fence & Railings Inc. today – proudly serving the Greenwich and Stamford, CT and Westchester, NY areas.